In December Krista and I decided to start a Whole30 Facebook group to help keep the both of us accountable, motivate others, and create a support group for anyone who wanted to join us on the crazy Whole30 Journey.  We assumed we'd have about 40-50 people join and encourage.  Today the group sits at just over 720 members, and is filled with recipes galore, meal plan inspiration, and a ton of Whole30 knowledge!
I was pretty nervous about completing another round of Whole30 while pregnant, you can read more about that in my Can I do Whole30 Pregnant post, but with the help and inspiration of this group, it was far easier than the first round!  The struggles, the victories, the "I want to punch you in the throat" phase, we all lived it together.
We put together just a tiny glimpse of testimonials and before/ after pictures, because I could hardly wait to share the hard work and amazing accomplishments these people went through in just 30 days!
Allie:  
During the month of January, I participated in Whole30. If you haven't heard about Whole30, I would recommend it. It's not about a new diet fad that will fade out in the month of February, but a lifestyle change. I realized a few things…
1.) I'm a stress eater; when I get stressed, I turn to food. During this journey I didn't allow myself to do this
2.) Self-control is possible; I had a lot of negative Nancy's tell me that I wouldn't last a week or try to tell me that "it's ok to go off path for one day". No it's not. I made a commitment and I'm going to stick to it.
3.) Healthy weight loss really is 80% what you eat 20% exercise: during this month I lost almost 13lbs and brought my body fat down to 29%.
I definitely couldn't have done it without the support of my husband and my family.  If you're interested in doing it and need a good support channel, join the Facebook group!
Krista:
For me, doing a Whole30 was mostly to regain my self control and get my eating habits back on track. After just having my third child and gaining 65lbs I wanted to not only lose some weight but also feel confident again, fit into some of my pre pregnancy clothes, and have the energy to take care of 3 kids.  The Whole30 did all of this for me and more. After 30 days I feel great, I never have headaches, I am more organized than ever before, I love cooking healthy meals again, and I lost 11lbs.  Not only have I benefited from this round of Whole30 but my kids are eating better and my husband decided he would like to try a Whole30.  Because I'm so happy with my results and the way I feel I decided I don't want to stop. My husband is joining me as I continue on into a Whole60!
Beth:
My starting weight was 154 & today I now weigh 145. My waist was 32′ and today it's 28′. I went from a 34DD to a 34D. I still have 10lbs to go, but am extremely happy with the results so far!
I am going to continue to eat this way, but introduce a few treats here and there. Thank You for this group. It has helped me out a ton.
Christina:
Thanks ladies for all the support that this group provided! I lost 2 3/4 inches off my belly and half inch around my thighs and about 10lbs.  I can tell a difference!
Courtney:
NEVER thought I'd post the before picture hence why I'm Just wearing a bra, but I'm darn proud of everything I've accomplished! Why should I be embarrassed? I'm working and changing and making improvements.  That's not who I am anymore! Down 9.5 lbs, forgot to take measurements before, but NSV (non scale victory)… the ability to say "no thank you" to food.  Before I would always grab a handful of candy and turning down doughnuts in the break room was unheard of.  Now I don't even really notice those things!
Lauren: 
Starting weight: 125,  Ending weight-117.8.
 NSV (Non Scale Victories)- awesome sleep, great workouts (in just two short weeks of getting back to running I went from an almost 10 min/mile pace to an 8:15/mile pace), clearer skin, clear brain, discipline that carried over to other areas of life. SO many things to be grateful for on this journey. Thank you to this page, you all really inspired me to keep going and gave such great ideas!
Courtney:
Non Scale Victories: better sleep, more patience with my kids, just happier.
Weight loss-5.2 lbs, inches lost 2 each from bust, waist and hips.
Thanks for all the meal suggestions and great group support. I plan to do another round in March.
Laura:
11.3 lbs. lost!
6.9 lb of fat lost!
I had gained about 20 pounds in six months during major life transitions (got married & we moved across the country without anyone we knew). Thankful for Whole30 and being that much closer to where I was before. I did not workout during Whole30 as I wanted to first get my food under control. I am now adding workouts and feel great!
 Julie (24 weeks pregnant):
Let's be real. Not a whole lot has changed over the past 30 days, physically. I still have all the lumps and bumps I've always hated. In fact, I'm even bigger. The Whole 30 for me has been a journey of non-scale victories from start to finish. It's all about fueling my body, and my unborn child, with the best possible whole, real, and clean food choices. I have gained 5 lbs and I am happy knowing that is all baby. She is growing strong! My favorite take away from this experience has come from reading all labels diligently and what I've learned about food in the process. I feel equipped and empowered to make great food choices for the rest of my life, and hopefully influence those around me in the process. It's not about weight or what my body looks like. Though in the past, I'll admit, it has been about that. Now it's about knowing what REAL food can do for me and my health. It's about breaking physical barriers I never thought I'd be capable of. It's about feeling gooood! It's about appreciating my body for what it can do, not how it can look. Through the ups and downs of the last 30 days I've learned that it is possible to make true health in a fast food world a reality.
Aimee's Son:
Here is a before and after picture of my 10 year old for anyone wondering if it can be done with kids.
Jessie: 
I am happy to say I have lost 7.5lbs, 2 inches in my love handle area, and 3/4 inch off each side. I also measured at bootcamp today. I have been doing bootcamp for exactly 2 months today and am down 13 pounds 7.5 inches all over, and 4% body fat. I'm back and ready to take on another month and see what results I can get!!
 Cassie:
Before I decided I was going to do whole 30, one look at the "rules" and I thought it seemed impossible. And too expensive for my budget. But I was wrong! We did spend a little more on our groceries in January but we spent way less money on eating out. The two most important things I learned:
1. It is possible, even for me.
2. It feels BETTER to pass up junk food than the food actually tastes.
Here are a few of my favorite NSV's (Non Scale Victories):
1. I felt happy. Like all the time. Rather than feeling crappy about myself, I felt great & proud of myself!
2. After about the first week, once I fell asleep at night, I STAYED asleep.
3. I look & feel less bloated.
4. Compliments from friends and family.
5. I have Hashimoto's, a form of hypothyroidism.  It's when your thyroid is under active and enlarged.  I think the best part about it all, my thyroid levels are under control for the first time in 1.5-2 years. I have been on meds for about 4 years but it took a good 2 years to get it right (with a pretty good diet) and then levels increased again with pregnancy. After I had my baby 9 months ago, it was like I was starting all over and we had to figure out how to get the levels under control again. We tried 4 different doses but it was so inconsistent. I went on whole 30 & FINALLY the levels are good again! This alone is enough motivation to keep going.
I have 20-25 pounds to go to get to my goal, and I am loving the process! I plan on doing whole 30 again before the end of the year.
Gina:
Boom! 30 days and 90 homemade meals later, my husband and I finished our January Whole30 today!!
Scale victories: For the first time since we got married my husband is under 200 lbs. He lost a whopping 23.8 lbs!! I am pleased with an even 14 lb. loss and a dropped pant size. Victory!!! Thanks for all the helpful tips and recipes, ladies!
Some NSV's (Non Scale Victories):
The hubs ate breakfast every morning

I became great at meal planning

My skin looks great

I'm really proud of my new interest in reading labels at the store. Scale victories: for the first time since we got married my husband is under 200 lbs. he lost a whopping 23.8 lbs!! I am pleased with an even 14 lb. loss and a dropped pant size. Victory!!! Thanks for all the helpful tips and recipes, ladies!
Laura:
I didn't weigh or measure before starting. My significant joint pain and swelling was my motivation. I Was diagnosed with inflammatory arthritis in December because the rheumatoid factor was negative. I was told to come back in 6 months and basically wait for it to become positive so I could start all the yucky meds. After lots of research (I am a pharmacist nerd), I decided to try the diet aspect. Drastically improved my energy, pain and swelling!! Planning on reintroducing certain foods to determine what's causing the most issue. I think it's dairy as I was eating a lot of dairy since I had to cut out the wheat due to an allergy.
Mikaela: 
 I have to say this is the happiest I have been in a while! I recently embarked on journey to be healthier, with eating and exercise. I stared in January with whole 30! And now I am going to kick it up a notch and test myself with Beach Body (and by becoming a coach)! I am so excited to see my body change for the better, I am already down 15 pounds, and no aches and pains that use to come after a long day on my feet, and I am FINALLY back to eating to fuel my body NOT my emotions! I really don't think I could have done any of this without the support of my amazing husband!
I hope these people inspired you as much as they have me!
Follow us @stayfitmomblog and @stayfitmom_com on Instagram and on our Facebook page where we love getting personal.  You can also subscribe to Stay Fit Mom for healthy recipes, workouts, and most of  all inspiration and encouragement!
If you've still got questions about Whole30, we've got a few posts that should really help get your started…
The products and information listed in this post are to the best of our knowledge.  We share with our readers what has been successful for us in our own lives.  Visit Whole30.com for full nutritional guide to ensure the products and food you consume are compliant.
My Whole30 Walmart Shopping List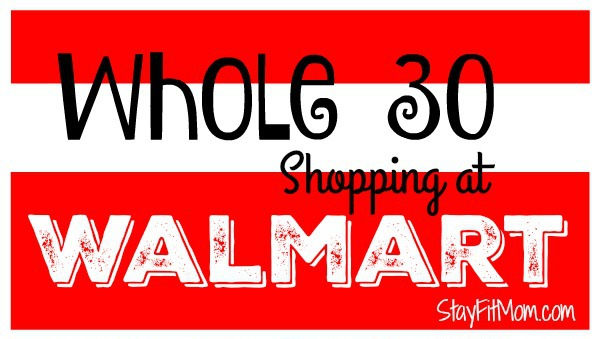 20 Plus Whole30 Recipes You Can Prepare Ahead