Jump to recipe
When I shared the stories of me heating up my cherry tomatoes for my Greek tuna casserole yesterday I got a few messages about the viral baked feta. Apparently a lot of you thought I was going to make that. I had no idea what the baked feta trend was until that exact moment. I quickly dove into the hashtags and knew I had to make it ASAP! Here's the Stay Fit Mom version of the Baked Feta Pasta trend along with the macros per serving.
Obviously I had to get a little creative and find a way to get some more protein in it. I knew I could pair the pasta with some grilled chicken on the side, but why not just add it right in! Here's a look at how easy this recipe is to make.
When I went to the grocery store last night for my ingredients I grabbed a box of chickpea pasta. I figured it was another great way to get some extra protein in this dish. I'm so glad I did. It tastes great! My favorite brand is Banza but the macros for all are pretty similar. I wouldn't stress what brand you get. I used casarecce. Most come in a box right around 8 ounces.
This post contains affiliate links. If you purchase something from these links, we could earn a small commission. This would be at no additional cost to you.​​​​​​​
This was creamy and delicious! I will definitely be making this again! See below for serving size and macros!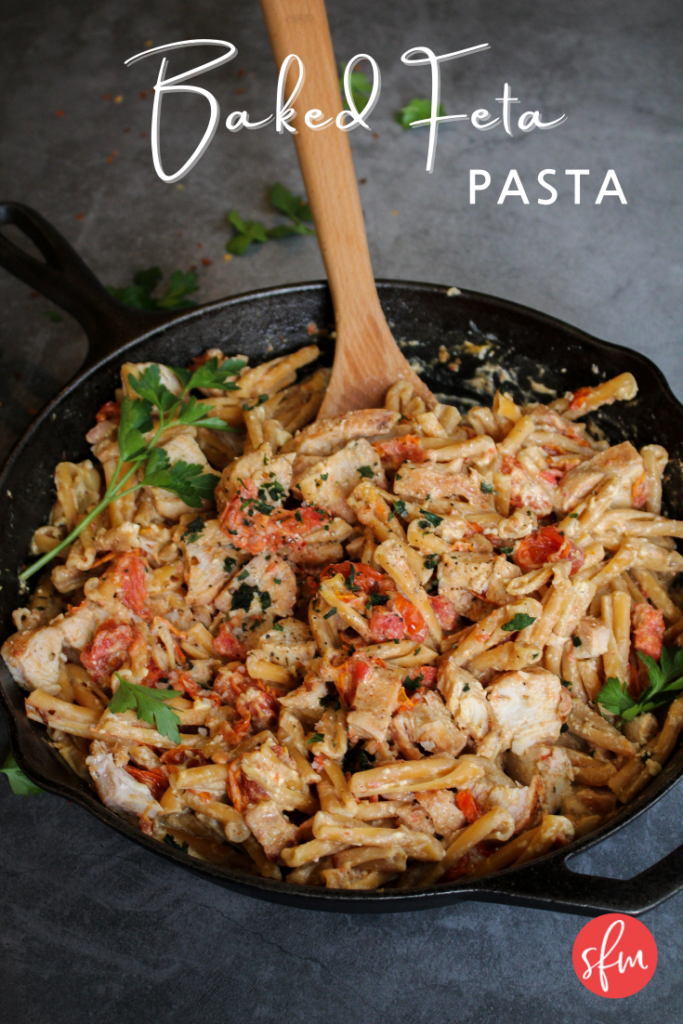 Ingredients
20 ounces grape tomatoes
2 tablespoons extra virgin olive oil
8 ounce block feta cheese (I used Président® Feta)
4 smash garlic cloves
1/4 teaspoon dried oregano
1/4 teaspoon salt
1/8 teaspoon pepper
1/4 teaspoon red pepper flakes
8 ounce box chickpea casarecce pasta (Barilla or Banza are both very similar)
1/4 cup pasta water
15 ounces cooked chicken (I used grilled)
Instructions
Preheat your oven to 400 degrees F with your cast iron skillet or casserole dish inside. Let the pan warm up about 5 minutes and then take it out.
Place 1 tablespoon of your olive oil, tomatoes, garlic, and salt and pepper in your pan and stir to coat the tomatoes well.
Next place your feta block in the middle of the pan and drizzle the feta and tomatoes with your remaining tablespoon of olive oil.
Sprinkle your oregano and red pepper flakes over the feta and tomatoes.
Bake in the oven for 35 minutes.
While the feta is baking cook your pasta according to package directions and strain. Don't forget to save 1/4 cup of the pasta water!
Remove your feta from the oven and stir well. Add your cooked pasta, reserved pasta water, and cooked chicken. Stir well and top with some fresh herbs like basil or parsley. Enjoy!
Nutrition Facts
Baked Feta Pasta
Serves: 6
Amount Per Serving:

250g

Calories

367

% Daily Value*
Total Fat

14.6

21.5%
Saturated Fat
0
Trans Fat
Cholesterol
0
Sodium
0
Total Carbohydrate

27.4

9%
Dietary Fiber

6.6

24%
Sugars
Protein

33.4
| | |
| --- | --- |
| Vitamin A | Vitamin C |
| Calcium | Iron |
* Percent Daily Values are based on a 2,000 calorie diet. Your daily values may be higher or lower depending on your calorie needs.
Notes
Find it in MyFitnessPal by searching Stay Fit Mom Baked Feta Pasta

© 2023 Copyright Stay Fit Mom
Follow us on Pinterest for more great recipe suggestions! We love seeing Stay Fit Mom recipes in your kitchen! Post your meals to Instagram and be sure to tag @stayfitmom_Kristaand @stayfitmom_Tracy!