Short on time this week?  I know I am!  Back to work, kids getting ready to go to school and daycare, husband finishing his last week of school and starting a new job, moving into a new house, the list goes on and on….Stay Fit Mom's weekly workouts don't take much time or equipment! Squeeze one of our workouts into your day 4-5 days a week and you will feel better physically, and most importantly emotionally.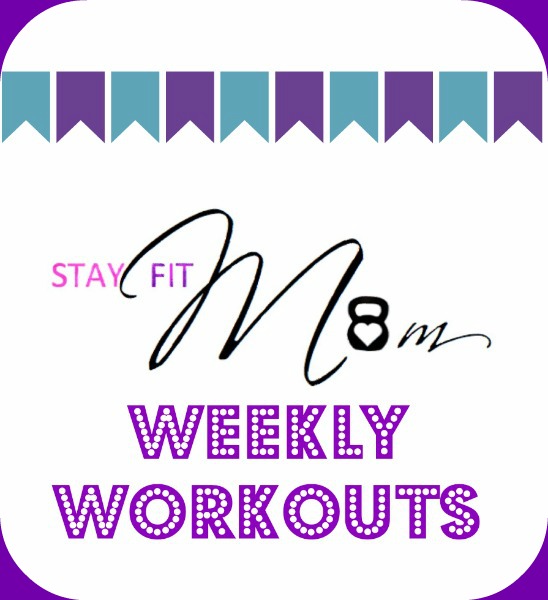 This post contains affiliate links.  If you purchase something from a link, we could earn a small commission.  This would be at no additional cost to you.
Weekly Workout:
Up for the challenge? If you are, make sure to take a picture and tag us @stayfitmom_Krista and @stayfitmom_Tracy on Instagram and use hashtag #SFMWeeklyWorkout! We'd love to see you in action!
[Tweet "Who else is doing @stayfitmomblog's 10-15-20 Weekly Workout this week!?? "]
Equipment Needed:
Timer -We frequently use the MYWOD app and recommend it to our readers.  You can keep track of your workouts, they've got How To videos, and of course the app has great timers.
Yoga Mat(s) if desired.
Plyometric Box -you can always use a wall or stable stool.
Dumbbell -I used a 25lb dumbbell for this workout.
Jump Rope
Modification Options:
Be sure to modify this at-home workout to your ability level.  If you need to modify the movements, you can!  If you happen to be pregnant like me, you usually must make a few modifications.  For example: the burpee can be modified by stepping up instead of jumping up, or you may not be able to lay all the way down to the ground. (see the video demo to see my burpee modification) If you haven't mastered the double under just do single jumps X 2. So you would jump rope 20-30-40 instead of the 10-15-20. Just keep in mind we want you to feel accomplished after your workout, not defeated!
See video demonstration below.
Good luck and remember  to take a picture and tag us @StayFitMom_com and @StayFitMomBlog on Instagram and use hashtag #SFMWeeklyWorkout!
Use code: weeklyworkout and save $5 on our 6 Week At Home Workout Program
Did you catch last week's Ascending Ladder Workout?