Jump to recipe
I'm not sure if I've officially said it, but I plan on doing my second Whole 30 in January.  Obviously I don't want to take on the challenge before then because of the bun in my oven but I have big plans for January 2016.  My last Whole 30 was a serious commitment that I didn't quite know I was making.  Although I was extremely happy with my results and I learned a lot, it would have been helpful to have a few more Whole30 recipes on hand.
One thing I can say for sure is that my meals became very repetitive when I did my first Whole30.  This isn't necessarily a bad thing because you find foods you like and you stick with them.  My go to food of choice when really watching what I eat has always been the sweet potato.  More often than not it means baked or steamed in the microwave with a side of broccoli or green beans.  Because I sometimes need a little more excitement in my life I have created a new recipe: Roasted Pepper and Tomato Sweet Potato Salad!

I find this recipe exciting because you get to roast peppers on the stovetop (if you have a gas burning stove) and you can mix up the veggies in the dish however you'd like.  I'm kicking myself for using a yellow bell pepper instead of green (which would really have looked beautiful!) but I'm also all about using what I have in my fridge and not letting veggies go to waste.  So, if you are going to add this to your meal plan this week, I suggest buying a green bell pepper just to add more color.

If you have never roasted a bell pepper on the stove top its really quite simple.  Place your bell pepper on the stove, turn it on, and roast away.  As it blackens keep turning it until you've roasted it all.  Set aside and let cool a few minutes before scraping away the skin with a knife. The rest is quite simple! Enjoy!
If you don't have a gas stove top: Use your broiler.  Place it on a cookie sheet right under the flame and turn until all sides are blackened.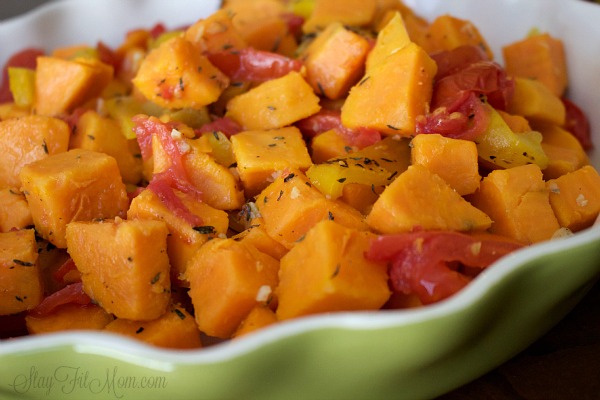 Ingredients
3 medium sweet potatoes (or 3 cups cubed)
1 bell pepper
2 medium tomatoes
1 tablespoons olive oil
1 teaspoon mustard
2 cloves garlic
1/2 lemon juiced (2 teaspoons)
1/2 teaspoon thyme
Instructions
Cook cubed sweet potatoes in boiling water until tender, drain, then set aside.
Roast bell pepper over gas stove top or broil on high until evenly blackened.
Let peppers cool and peel away blackened skin. Cut peppers lengthwise and add to sweet potatoes.
Slice tomatoes, salt and pepper them, and broil on high 5-7 minutes. Add to sweet potatoes.
In sauce pan warm up olive oil and sauté chopped garlic 30 seconds. Stir in 1 teaspoon mustard and pour over sweet potato mixture.
Squeeze the juice of 1/2 lemon and over the salad, add thyme, toss.
© 2023 Copyright Stay Fit Mom
For more Whole30 recipes go here.
You may also like these recipes from Stay Fit Mom: