Jump to recipe
Everyone is obsessed with this Mexican Street Corn Casserole! For good reason! Ninja Insiders got their hands on this one a few years ago and it quickly became a favorite. It's super easy to throw together, it's really flavorful and delicious, and it's a high protein meal that easily fits into your macros. Put this on your menu ASAP!
Speaking of your menu, what's for dinner all month long? If you're looking for hep with planning macro friendly meals subscribe to our new Monthly Macro Meals! You get 20 recipes each month (4 brand new recipes each month!) with the macros already calculated for you and in both Myfitnesspal and Macrosfirst. It doesn't get much easier!
You can find the meal prep version of this Mexican Street Corn Casserole in the Meal Prep Recipes cookbook and on my Instagram. It was slightly adapted to make 5 single servings meals to pack for lunch or enjoy for dinner all week long!
This post contains affiliate links. If you purchase something from these links, we could earn a small commission. This would be at no additional cost to you.​​​​​​​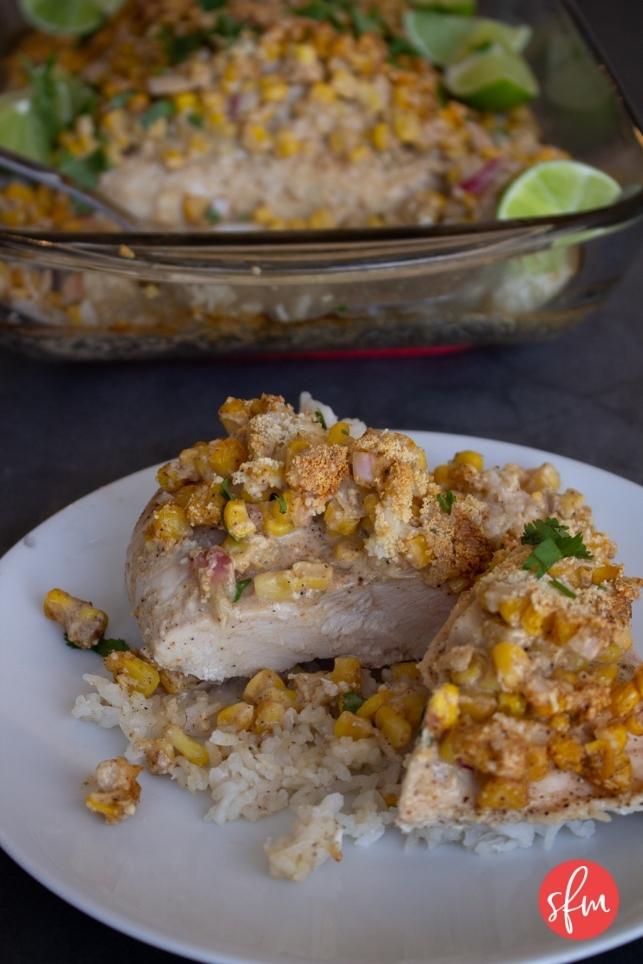 I always suggest using a meat thermometer when cooking any kind of meal like this. This will ensure you don't overcook the chicken and it stays nice and moist, not dry. This cheap meat thermometer on Amazon will get the job done and alert you as soon as it hits temperature. It doesn't get much easier! No more guessing or cutting your chicken breasts open to see if they're cooked enough.
You can see how easily this recipe comes together above. This is a high protein recipe with bold flavor. Top it with some extra fresh lime juice when serving. If you make it let me know! I hope you love this one!
Ingredients
2 pounds boneless, skinless chicken breast
3/4 cup uncooked rice (145g)
1 cup water
2 cans whole sweet corn, drained
75g red onion, diced
60g light mayo
60g Crema Mexicana
90g queso cotja 1/4 cup + 2 tablespoons
juice of 1/2 lime
1 & 1/2 teaspoons chili powder
1/2 teaspoon paprika
1/4 teaspoon pepper
1/2 teaspoon salt
Instructions
Preheat the oven to 350 degrees & spray a 9X13 casserole dish with any oil lightly.
Put rinsed rice and 1 cup of water in the bottom of the casserole dish. Add salt and stir gently.
Layer chicken breasts on top. Sprinkle them with salt and pepper.
In a mixing bowl combine all remaining ingredients (set aside 2T. queso cojta cheese). Layer the corn mixture over the top of the chicken breasts. Cover with remaining queso cotja cheese.
Bake for about 45 minutes or until chicken internal temp reaches 165 degrees.
Nutrition Facts
Mexican Street Corn Casserole
Serves: 6
Amount Per Serving:

319g

Calories

374

% Daily Value*
Total Fat

10.3

15.4%
Saturated Fat
0
Trans Fat
Cholesterol
0
Sodium
0
Total Carbohydrate

32

10.7%
Dietary Fiber
0
Sugars
Protein

37
| | |
| --- | --- |
| Vitamin A | Vitamin C |
| Calcium | Iron |
* Percent Daily Values are based on a 2,000 calorie diet. Your daily values may be higher or lower depending on your calorie needs.
Notes
Find in Myfitnesspal or Macrosfirst food database by searching for, "Stay Fit Mom Mexican Street Corn Casserole."

© 2023 Copyright Stay Fit Mom