I've been dying to write this post for the past 4 weeks but I didn't want to jump head first into it until I knew exactly what I wanted to say.  After all, our most famous recipe is the Homestyle Paleo Meatloaf and one of our most popular posts is My Whole30 Grocery List. We are huge fans of paleo and the Whole30 diet and have learned a tremendous amount about food quality because of them.  However, in the Crossfit community, which we clearly love, trends seem to be shifting quickly from the paleo lifestyle to macronutrient counting and we are thrilled about it!  That being said, let me now share a few reasons I love macro counting and how the paleo diet still plays a big role in it.
What is the paleo diet and what is macro counting?
The paleo diet is basically trying to eat as similar to how the cavemen did as possible.  If it grows out of the ground or comes from an animal you're mostly good.  You can't eat any grains, gluten, dairy, or processed foods of any kind.  Also, there are no limits on the quantity of foods you consume.
Macro counting consists of tracking your protein, carbs, and fat intake on a daily basis. In a nutshell, you can eat any variety of healthy foods you like, so long as you hit your macronutrient goals for the day.
Flexibility
I followed a fairly strict paleo diet after having my second child back in 2014 and had great success with it. However, anytime I went on vacation or wanted to indulge in someone else's homemade goodies over the holidays I felt guilty and it made me sick, sometimes for several days.  I would feel so guilty after consuming goodies that it would send me over the edge and into the binge zone. I also discovered that the longer amount of time I spent avoiding gluten and dairy the sicker I would get each time I indulged in these "naughty" foods.
With macro counting you are given the flexibility to eat a wider range of foods and occasionally fit a treat into your daily macros without feeling so guilty or deprived of the things you really enjoy. Because you can eat a wider range of foods you're less like to get so sick when you kindly eat the homemade cookie you're offered by a coworker.  Having this flexibility, to me, makes it a lot more sustainable long term because it teaches moderation.
This post contains affiliate links.  If you purchase something from these links, we could earn a small commission.  This would be at no additional cost to you.
Food scale above from Amazon.com a few years ago. Here is a similar one for a great deal!
Food Quality
For those of you who aren't familiar with it, counting macronutrients is not a new diet, but has been used by body builders and bikini competitors for years.  If you follow any of these ladies(or men) on social media you know they look amazing, but I cringe every time I see them eating carb-free, fat-free, sugar-free, everything-free pancakes.  Because I have a lot of experience with the paleo diet and doing Whole30 I know the importance of quality over quantity. I learned more about the foods I was putting into my body from doing Whole30 than every before.  No matter how fit you think you are, I promise you would benefit from a round of the Whole30 and your eyes would be opened to all the preservatives, sugar, hormones, and many other ingredients added to your food. I'm guessing you've maybe seen the hashtag #iifym(if it fits your macros) on social media before.  Depending on your goals you may choose to eat those zero calorie pancakes everyday when macro counting and maybe still lose weight, but nutrient dense foods should always be prioritized for optimal results and sustainability.  Focusing on hitting your macronutrient requirements with real, whole foods is the ultimate goal.
Fat Grams
I quickly learned when I started tracking my food that I was through the roof in fat grams thanks to my mostly paleo lifestyle.  If you also eat a diet consisting of unlimited fatty meats, almond butter, and avocados you will see this trend as well.  Don't get me wrong, they are definitely good sources of fat, but if you want to make a change in your body composition you will need to start setting limits.
Gluten Sensitivity
So we all know there is a huge trend right now for gluten-free foods.  Don't get me wrong, I think life would be a little easier if this little devil didn't exist.  However, I realistically don't want to live without my mom's homemade cinnamon rolls the rest of my life.  Whether you're diagnosed gluten intolerant or not, you're going to develop a gluten intolerance if you go long periods of time without it.  Like I said before, I know this first hand.  I cringe just thinking about the many nights after my last Whole30 I went to bed just sick to my stomach.  Maybe you can eliminate this drug from your system forever, and I give you major props, but I don't want be sick each time I choose to indulge in a cheat meal (within my macros of course**wink*).
Carbs
I think a lot of people believe that carbohydrates are bad and you should stray away from them at all costs if trying to lose weight.  This has always been a common misconception in the health and fitness world.  Carbs are an essential part of a balanced diet and if you're eating complex carbohydrates you're doing things right. When doing a Paleo diet it's really hard to get lots of carbs and fiber in because you're not getting them from bread, oatmeal, or other grain sources.  I loved eating my sweet potatoes everyday when strictly paleo, but I must say, being able to now eat a piece of whole wheat bread, rice, or a tortilla has been nice!
Conclusion
You don't have to choose one or the other.  Everyone is different, everyone's goals are different, no diet is better than the other.  Tracy and I are simply choosing to count macros for now and we're seeing huge results because of it.  When we find something that we are passionate about and we think would be beneficial to others, we share it!  We have learned so much in the last few months that we will be sharing with all of you in our upcoming Macro Series.  We want to help you get healthy, lose that stubborn baby weight, feel confident in your skin, gain strength, or whatever it may be by counting macros and using flexibility just like we are!
Looking for a macro coach?  We'd love to have you!
Macro coaching ($165)– includes one on one nutritional counseling, starting macro prescription, weekly check in/ analysis of progress photos, frequent macro adjustments, meal ideas, live videos, as well as high levels of accountability and support in the privacy of a closed Facebook group.  Macro coaching allows us as coaches to dive in to see EXACTLY what your body needs to get that metabolism thriving and responding.  As your weight changes, your macros will need to change.  The one-on-one coaching allows us to see how your body responds to different macros each week.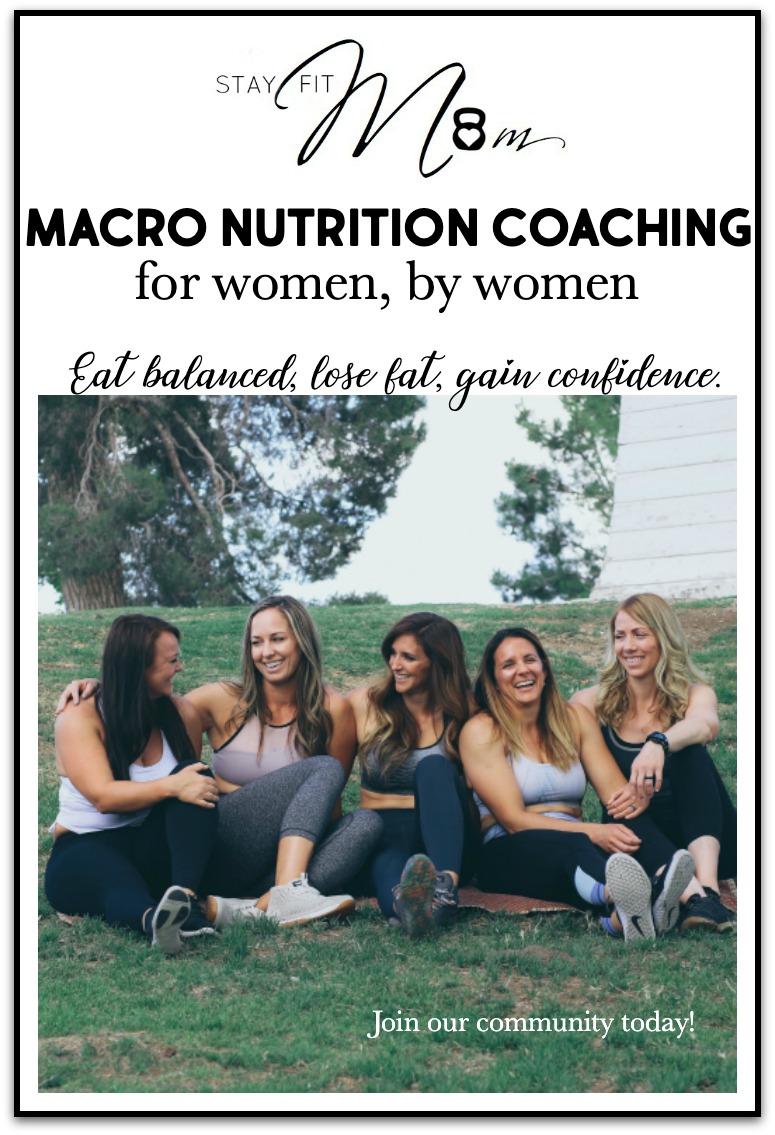 Here are a few statements of feedback we've received from our clients.
"I can't believe the scale is down to 125.  I have been trying for literally YEARS to do this.  I started a new fitness journey when my youngest was 6 months old….she just turned 5!  I tried just cleaning up my diet, portion control, long distance running (i gained more body fat), keto, calorie counting, twice a day workouts, P90X, and I just could not get my body to respond!  Of all the things I've done this is the easiest.  I feel like I've been using the wrong key for the lock and finally found the right key.  SO much easier when you have the right key.  Thank you, thank you, thank you!!!!" -Stephanie
"Thank you ladies so much! We LOVE you guys! Throughout this process, it's been so uplifting to see other woman be so transparent about their bodies, success, and failures. This journey has been so much more than just weight loss for me. It's challenged me on every level: physically, mentally, emotionally, and spiritually. Thanks again for doing what you do!" -Terra
***Click here for a 1 time macronutrient prescription($40) 
You can also join our free Macro Nutrition Facebook group here where we are happy to help with any questions, give meal ideas, support, and much more!
Interacting with our community on social media fuels our passion to keep on creating!  We do our best to read and respond to every single comment.  It means the world to us to know that you're out there listening and going through the trenches right alongside us!
on Instagram:  @stayfitmom_tracy and @stayfitmom_Krista 
You may also like:
Macro Counting Transformations