I'm Vegas born and raised and almost a little embarrassed to say that after 33 years, I finally took my very first trip to Big Bear! I fell in LOVE with the cooler temperatures, beautiful scenery, and most of all, that I could experience all of this in a less than a four hour road trip!
Where do we stay?
I was shocked to see how many vacation rentals there are in Big Bear. Both times we stayed, we looked up a place on airbnb.com. What I love about airbnb is that you can find so many different price points and options, and then pick one that suits you! There are also campgrounds right along the Alpine Pedal Path (more on that below) that are amazing if you want to go the camper route!
What's there to do?
We've taken our kids twice now and we're never short on activities!
Alpine Pedal Path: This 5.4 mile out and back trail is right along the lake. This trail is what made me fall in love with recreational biking. I couldn't wait to get my Six Three Zero EVRYjourney on the path and it was everything I hoped it would be. I don't talk about this enough, if you don't enjoy recreational biking with your entire family, you haven't found the right bike! Head over to Six Three Zero to build your show stopper today!
Alpine Slide at Magic Mountain– This alpine slide is world famous and our kiddos couldn't get enough! The cost was $25 for 5 slides. They also have water slides, zip lines, and go carts. A great 1/2 adventure that the whole family will enjoy.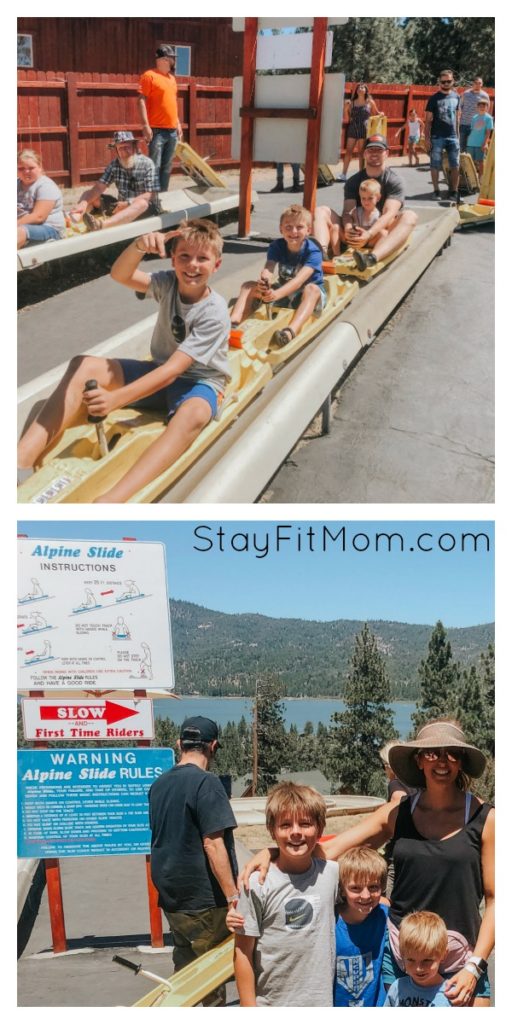 Big Bear Alpine Zoo– Our kids really enjoyed seeing actual bears (among other animals) in Big Bear. Don't expect the San Diego Zoo, but for a few hours, and at an affordable cost, you can enjoy the animals and support the rehabilitation facility too!
Big Bear Lake Village– If shopping is your thing, you won't want to miss this! There are over 120 local vendors. My favorite shop was the Christmas Store 'N' More, but no trip would be complete without a stop at the North Pole Fudge & Ice cream.
Water Sports– Kayak, Paddle Boards, and all things lake fun can be rented at shops on just about every corner.
What's the best time of year to go?
We have only gone in the summer, and trading in 110 degrees for 75 was straight blissful! But I've heard from so many that winter is a blast for skiing and snowboarding. We are headed back there in December, so stay tuned for another post soon!
If you liked this post, you might also like​​​​​​​ Family Friendly Zion National Park.
Join @stayfitmom_Krista and @stayfitmom_Tracy on Instagram as we share our travel adventures in real time!