Jump to recipe
For most women, protein seems to be the most challenging macronutrient to eat each day. Believe it or not, simply increasing your protein consumption daily will most likely result in a loss on the scale and significant changes to body composition. Protein helps build and repair muscle, it helps prevent muscle loss when in a calorie deficit, it is the slowest macronutrient to digest(which helps burn more calories), and it keeps you fuller, longer. Chances are if you're not keeping an eye on your protein intake you're probably falling short. I don't want eating enough of this super macronutrient to be burdensome for you. Let's talk about how much protein you should be eating each day, compare some typical protein sources, and I'll even show you an easy new recipe packed with protein.

So how much protein should you be eating each day?
Ideally you should be eating 1 gram of protein per pound of body weight. Now this may seem extremely high for some of you, so I suggest starting small and maybe working up to 1 gram per pound of your goal body weight.
Example: A 150 pound adult should eat 150 grams of protein each day.
The next question is, what does 150 grams of protein look like?
Here are some of the easiest protein packed whole foods to consume and an idea of how many grams per serving you're likely to be eating.
Average Serving Sizes &  Macros
Boneless, skinless chicken breast

100g  (raw weight)

23P/0C/1F

Ground Beef-85/15

100g  (raw weight)

18P/0C/15F

Ground Turkey-93/7

100g  (raw weight)

19.4P/0C/7.1F

Salmon

100g  (raw weight)

20P/0C/13F

Shrimp

100g  (raw weight)

13.2P/0C/0.9F

Egg Whites (

AllWhites

®

Brand

)

3 Tbls.

5P/0C/0F

Canadian Bacon

4 slices

10P/1C/1.5F

Turkey Lunchmeat

2 oz.

9P/4C/1F

Tofo

3.5 oz.

12P/4C/2F

Black Beans

½ cup cooked

7P/20C/0.5F

Lentils

½ cup cooked

9P/20C/0.4F

Kale

4 oz.

5P/10C/1F

Broccoli

1 cup raw

2.6P/6C/0.3F

Fat Free Cottage Cheese

½ cup

15P/5C/0F

Plain, Nonfat Greek Yogurt

½ cup

12P/5C/0F
Keep in mind you can also increase your protein intake with protein powder and protein bars. These products were created for convenience and shouldn't be consumed in large quantities. Whole food sources are always best, but don't hesitate to use a scoop of protein powder daily, especially if you're struggling to consume enough protein.
Overnight Oats
If you're a busy mom like me, you need a quick breakfast or pre workout meal you can grab and eat on the go! Since returning to work last week I've been keeping my fridge stocked with overnight oats. I'm all about convenience and this recipe is just that.  Liquid egg whites are rich in protein, fat-free, and safe to consume uncooked because they are pasteurized. I like adding them to smoothies or dressings, but created this recipe for when I'm in a hurry and need something I can just grab and go with.  Did I mention yet how yummy these overnight oats are!? I love topping mine with banana slices and cinnamon, strawberries, or blueberries.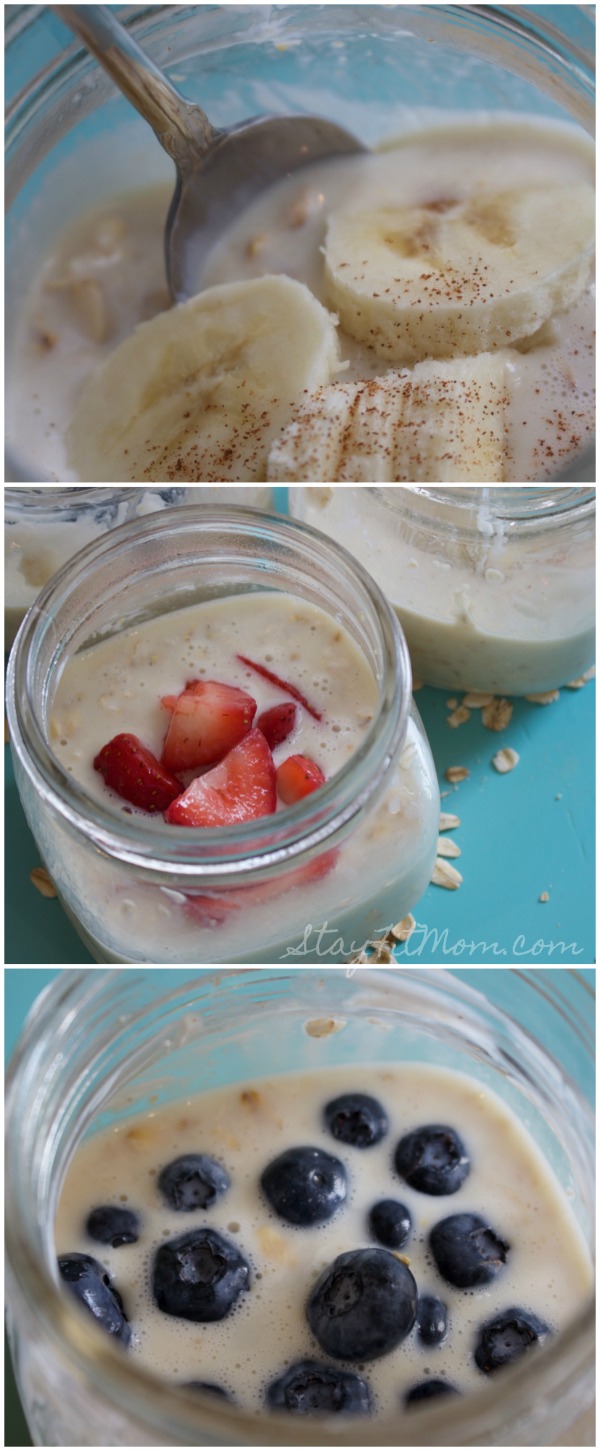 This post contains affiliate links.  If you purchase something from these links, we could earn a small commission.  This would be at no additional cost to you.​​​​​​​
To make these overnight oats you simply need AllWhites 100% liquid egg whites, old fashioned oats, plain Greek yogurt, and some liquid stevia. I like making mine in these wide mouth mason jars, but any small container will work. See below for step by step instructions for whipping up this simple recipe! I love using Clean Simple Eats protein powders with my code: stayfitmom because it has clean ingredients and they have so many good flavors. You can use our discount code to save 10%! It's stayfitmom and you can order here.
Instructions
In a wide mouth mason jar or small container combine all ingredients.
Stir well and refrigerate overnight.
Enjoy the next morning cold topped with fresh fruit, sprinkled with cinnamon, 1 tablespoon of powdered peanut butter, or even 1 tablespoon of coco powder.
Nutrition Facts
Overnight Oats
Serves:
Amount Per Serving:

1 jar

Calories

239

% Daily Value*
Total Fat

2

3.1%
Saturated Fat
0
Trans Fat
Cholesterol
0
Sodium
0
Total Carbohydrate

22.5

7.3%
Dietary Fiber

2.7

8%
Sugars
Protein

31.6
| | |
| --- | --- |
| Vitamin A | Vitamin C |
| Calcium | Iron |
* Percent Daily Values are based on a 2,000 calorie diet. Your daily values may be higher or lower depending on your calorie needs.
Notes
It's always best to calculate your macros per serving using your exact ingredients.

© 2023 Copyright Stay Fit Mom
Follow us on Pinterest for more great recipe suggestions!  We love seeing Stay Fit Mom recipes in your kitchen!  Post your meals to Instagram and be sure to tag @stayfitmom_Krista and @stayfitmom_Tracy!
This is a sponsored conversation written by me on behalf of AllWhites 100% liquid egg whites. The opinions and text are all mine.