Jump to recipe
These Italian Baguette Sandwiches have been a serious hit since I posted them for our Ninja Insiders a few months ago. I quickly rushed to get them into the new cookbook, Easy Macro Meals, and shared them to my Instagram Reels. I still get quite of confusion about the baguette bread, so I figure I'll just give them a permanent spot here on the blog with step by step instructions.
If you haven't tried this recipe yet, add all these ingredients to your grocery list right now. I got just about everything at my local Costco. I think they have THE BEST baguette bread. It comes in a 2 pack, but I only used 1, 410g loaf for this recipe. If using both loaves, double the other ingredients and you'll have 8 sandwiches!
Also note that baguette bread needs to be used right away when it's fresh. Within 1-2 days. If you have stale baguette bread don't panic, there is a trick to soften it back up I've successfully used myself.
Stick the bread under running water. Yes, the whole loaf right under your kitchen sink faucet and give it a good drench real quick.
Place it right on your oven rack and bake it 6-10 minutes (depending on the size of your loaf) at 300 degrees.
I also prefer Costco's pesto. I've tried others and it's just my favorite. Obviously you can use whatever you prefer. Most macros for pesto are very similar so I wouldn't even worry if you use something different. The same goes for the bread. Any baguette bread is great, just make sure it's around 410 grams total. ​​​​​​​​​​​​​​Add your meats and cheese and broil on high 3-4 minutes.
I suggest using some good ham for this one. I choose a black forest ham and it's great. You'll also want to make sure you have some fresh tomatoes ready. The tomatoes are a MUST.
This post contains affiliate links. If you purchase something from these links, we could earn a small commission. This would be at no additional cost to you.​​​​​​​
Finally just add your fresh tomatoes (I like to put the salt and pepper on the tomatoes) lettuce, and dressing.
I found this Walden Farms Italian dressing at my local Smiths (aka Kroger). I was doubtful it would be good, but boy was I wrong. It was great! I highly suggest it, especially because it's zero calories. If you can't find it try a lighter Italian dressing or a little olive oil and vinegar. Just make sure to add those to your food log separately if you're tracking your macros.
Now just fold them together and slice into 4 sandwiches! I hope you love them!!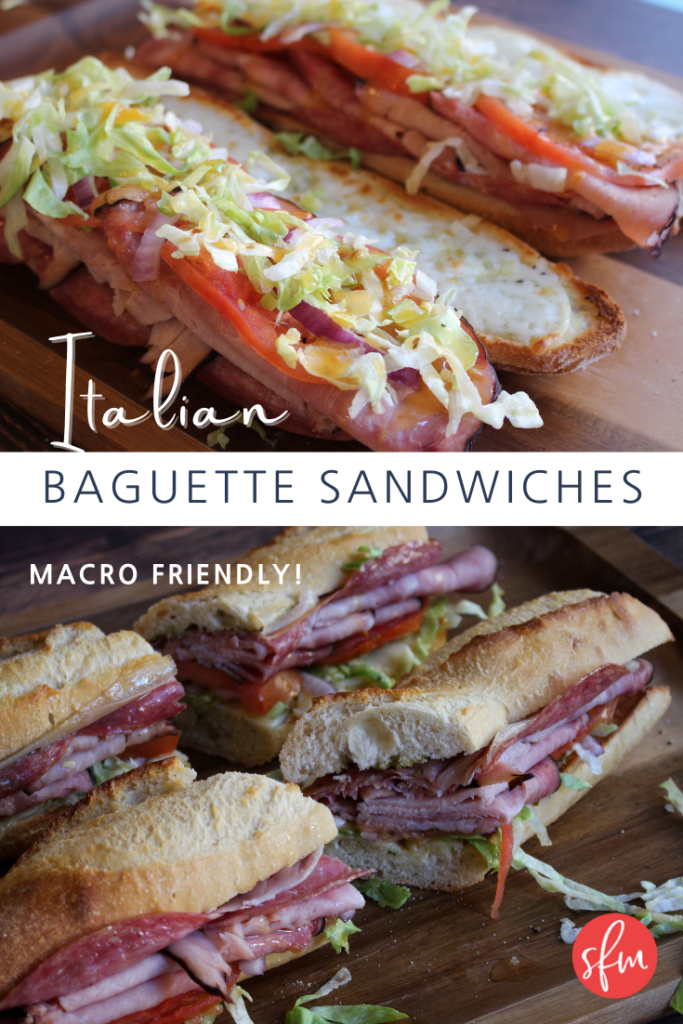 If you give them a try (or any of my recipes!) I'd love to see! Tag me on Instagram, @stayfitmom_krista! Print the recipe below or find it in my newest cookbook, Easy Macro Meals, along with over 50 other macro calculated recipes!
Ingredients
1 baguette (410g)
15 grams Pesto
3 ounces provolone cheese, thin sliced
11 ounces Black Forest Ham
2 ounces prosciutto
2 ounces salami
shredded lettuce
200 grams tomato slices
Walden Farms Italian Dressing, to taste*
* this is a zero-calorie dressing; if you use
something else, be sure to log that separately
Instructions
Slice the baguette loaves down the center
and place them on a sheet pan.
Spread the pesto evenly on all sides of the
bread, using a basting brush.
Evenly place the cheese slices on one side
of each baguette loaf.
On the other side, evenly layer the prosciutto,
salami, and ham.
Broil on high for 3–4 minutes, until toasted.
Top with tomato slices, lettuce, and dressing.
Fold and slice down the middle to make
4 sandwiches.
Nutrition Facts
Italian Baguette Sandwiches
Serves: 4
Amount Per Serving:

1 sandwich

Calories

490

% Daily Value*
Total Fat

17

26.2%
Saturated Fat
0
Trans Fat
Cholesterol
0
Sodium
0
Total Carbohydrate

47.3

15.7%
Dietary Fiber
0
Sugars
Protein

35.7
| | |
| --- | --- |
| Vitamin A | Vitamin C |
| Calcium | Iron |
* Percent Daily Values are based on a 2,000 calorie diet. Your daily values may be higher or lower depending on your calorie needs.
Notes
Log in MyFitnessPal by searching: Stay Fit Mom Italian Baguette Sandwich.

© 2023 Copyright Stay Fit Mom
Follow us on Pinterest for more great recipe suggestions! We love seeing Stay Fit Mom recipes in your kitchen! Post your meals to Instagram and be sure to tag @stayfitmom_Kristaand @stayfitmom_Tracy!