Confession time… My very first experience with parallettes ended in a broken set of parallettes.  Not because they were made incorrectly, but because my husband tried to get me to do a 30 second tuck hold 8 weeks post-baby.  NEVER begin your post-partum CrossFit journey with tuck holds.  Because there's a good chance you will pick them up, throw them as hard as you can at your husband, narrowly miss, and then end up with a perfectly good set of parallettes shattered all over the street.  It was right about that time that we came to the realization (for the good of our marriage), I needed to be coached by someone other than my husband.  I also learned how important it is to modify your workout. We want you to feel accomplished after your workouts, NOT defeated.  Listen to your body, modify accordingly, and celebrate your progress!
You'll be pleased to know that our marriage did survive that dreadful day, and two years later I enjoy getting in a good parallette workout!  If you can't do a tuck hold, don't you worry. There are plenty of ways to utilize paralletes in your at-home gym.  They will add variety to your workouts and you can make your own set in less than 15 minutes for $35.00!  Check out our step-by-step video demo below for a full tutorial.
Step One.  Head to your local hardware store for a few materials.
This post contains affiliate links.  If you purchase something from these links, we could earn a small commission.  This would be at no additional cost to you.
I know that The Home Depot will cut the PVC pipe for you for FREE, which makes this project a breeze!  You will need (1) 10ft. PVC pipe 1 1/4 inch thick.  Have your Home Depot or your friendly hardware store employee cut that 10 ft. PVP pipe into (8) 5-inch pieces, (4) 10-inch pieces, and (2) 20-inch pieces.  You will also need 4 T's, 4 Elbows, and 8 caps all 1 1/4 inch thick.  Grab yourself a small can of primer and a small can of cement and you're ready to get started!
Step Two.  Assemble 20-inch pieces with elbows, 10-inch & 5-inch pieces with T's, so that you know exactly what needs to be glued and where. This will make the primer job and cement job go quickly.
Step Three.  Primer and cement the appropriate areas.  See video demonstration below.
Step Four.  QUICKLY connect your pieces together.  The cement dries FAST, so you will want to do one piece at a time.
Step Five.  Let dry for at least an hour and a half, and give them a whirl in our Parallette Workout below!
DIY Parallette Video Tutorial

Now that you've got your DIY Parallettes assembled, you can move on to this week's Stay Fit Mom Weekly Workout!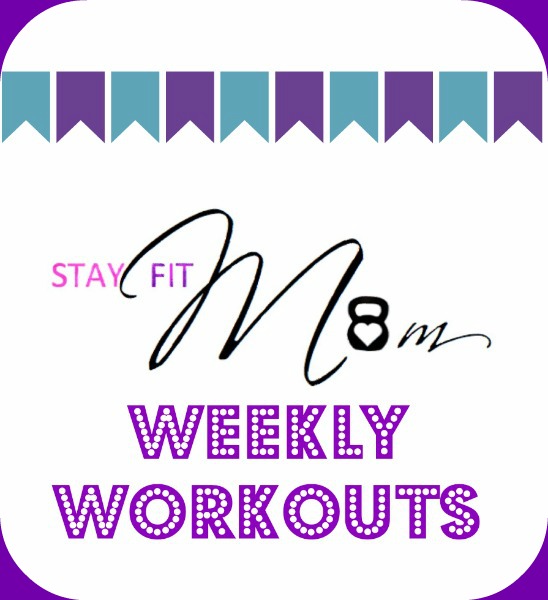 Weekly Workout:
40 Lateral Jumps
20 Dips
30 Lateral Jumps
15 Dips
20 Lateral Jumps
10 Dips
10 Lateral Jumps
5 Dips
Equipment Needed:
If you'd like to keep track of your time, a Timer.  (We frequently use the MYWOD app and recommend it to our readers.  You can keep track of your workouts, they've got How To videos, and of course the app has great timers.)
DIY Parallettes (see tutorial above) or you can always purchase parallettes.
Modification Options:
Be sure to modify this at-home workout to your ability level.  Bending your legs to 90 degrees is a great dip modification to  take pressure off of your shoulders.  If you're looking to increase the intensity of the dip you can do so by elevating your feet to a box.  If you don't have parallettes you can always do dips on a chair.  Try your best to jump off of two feet for the lateral jumps.  If you need to, find an object lower to the ground that you can jump over.
Begin the workout with 40 Lateral Jumps.  You will place both feet on one side of a parallette and jump with both feet to the other side of the parallette.  Use your arms to help propel your body off of the ground.  Every time your feet jump across the parallette that counts as 1 repetition.  Continue jumping until you reach 40.  Next move on to 20 Dips.  Work hard on getting full range of motion.  Your shoulders should in a straight line or lower than your elbows.  If you can't complete the full range of motion with straight legs, bend your knees.  Break these up into small sets if you need to.  After the 20 Dips you will return to the Lateral Jumps and complete 30 repetitions.  Then back to dips for 15 reps.  Continue until you've completed the repetition scheme.  You should finish with 5 dips.
Good luck and remember  to take a picture and tag us @stayfitmom_Krista and @stayfitmom_Tracy on Instagram and use hashtag #SFMWeeklyWorkout!
Did you catch last week's SFM Weekly Workout?