This shop has been compensated by Collective Bias, Inc. and its advertiser. All opinions are mine alone.
#ApplyBeforeYouDry #CollectiveBias
Here at Stay Fit Mom we're all about working exercise into your lifestyle.  We know a mom's time is even more precious during the busy school year.  This is an intense CrossFit workout that you can do from home with your kids or while they watch!
CrossFit is dirty.  Most days I get home from the gym looking like I got hit by a car.  Between the chalk, the asphalt, and the sweat, CrossFit requires that I keep up with a healthy skin regimen!  This week we're bringing you a workout that is sure to get you filthy, and I'm sharing my new favorite way to moisturize!
Before I get into my time-saving moisturizing tutorial with you, let's get started with a great Stay Fit Mom Weekly Workout!  If you complete this workout, be sure to take a picture and tag us  @stayfitmom_Krista  and  @stayfitmom_Tracy on Instagram and use hashtag #SFMWeeklyWorkout! We'd love to see you in action!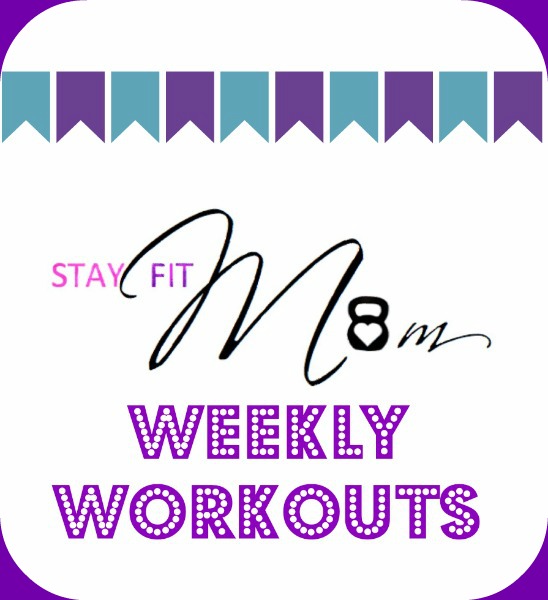 [Tweet "Getting my sweat on with this week's #SFMWeeklyworkout from @stayfitmomblog!"]
Weekly Workout:
5 Rounds
400 Meter Run
20 Air Squats
10 Push-ups
Equipment Needed:
Timer:  We frequently use the MYWOD app and recommend it to our readers.  You can keep track of your workouts, they've got How To videos, and of course the app has great timers.
Modification Options:
Be sure to modify this at-home workout to your ability level.  Don't let the number of rounds in this workout intimidate you.  If you have to walk during the 400 meter run, go ahead!  The important thing is that you keep moving and you do your best to keep perfect form.  Check out our Perfect Push-Up Tutorial for modification options on the push-up.  See the video demo below for further explanation and a demo of the movements.
Begin this workout with a 400 meter run.  After the run, complete 20 air squats, followed by 10 push-ups.  Repeat, until you've completed 5 rounds!

Working out 4-6 days a week can do a number on your skin if you're not using the right cleansing and moisturizing routine.  I live in the desert, and proper moisturizing is vital to keeping my skin looking young and healthy.  After a grueling workout, heading to the shower (or at the very least to the sink) for a skin care routine is a MUST!
Jergen's Wet Skin Moisturizer is a desert mom's best friend after a grueling workout.  You can find this NEW moisturizing product at Target in the beauty aisle.
Jergen's Wet Skin Moisturizer absorbs instantly into wet skin, no rinse required!  Moisturizing my skin while it's still wet not only saves time (no need to dry off and apply lotion afterward), it locks in hydration, and leaves skin feeling fresh for up to 24 hours!
The perfect post-workout moisturizer! What's better?  You can find a coupon in the Target circular ad beginning on 9/13 for 5% off!
How will Jergen's Wet Skin Moisturizer change your shower routine? Watch the video and tell me which one you want to try first!
Follow us on Pinterest for great workout suggestions! !  Post your workout to Instagram and be sure to tag @stayfitmom_Krista and @stayfitmom_Tracy!
Did you catch last week's 3 Round Tabata Workout?