Jump to recipe
Who doesn't love mac & cheese? I have a lot of mac & cheese recipes, but this is the first classic, or traditional, mac & cheese. I figure right before the holidays is a great time to share this one. And also, you all confirmed with me not too long ago that there are never enough mac & cheese recipes.
One of the most popular recipes among our macro coaching clients and community is the Skinny One Pot Chili Mac & Cheese recipe here. But while we're at it, here's all the current mac & cheese recipes we have and where to find them.
Pork Mac & Cheese (cookbook 3)
Hatch Green Chili Mac & Cheese (cookbook 3)
Veggie Mac & Chicken Bowls (Meal Prep Cookbook)
Pizza Mac (Ninja Insider)
Beefy Alfredo Mac (Ninja Insider)
"Made this for Thanksgiving and it did not disappoint!" – SFM Ninja Insider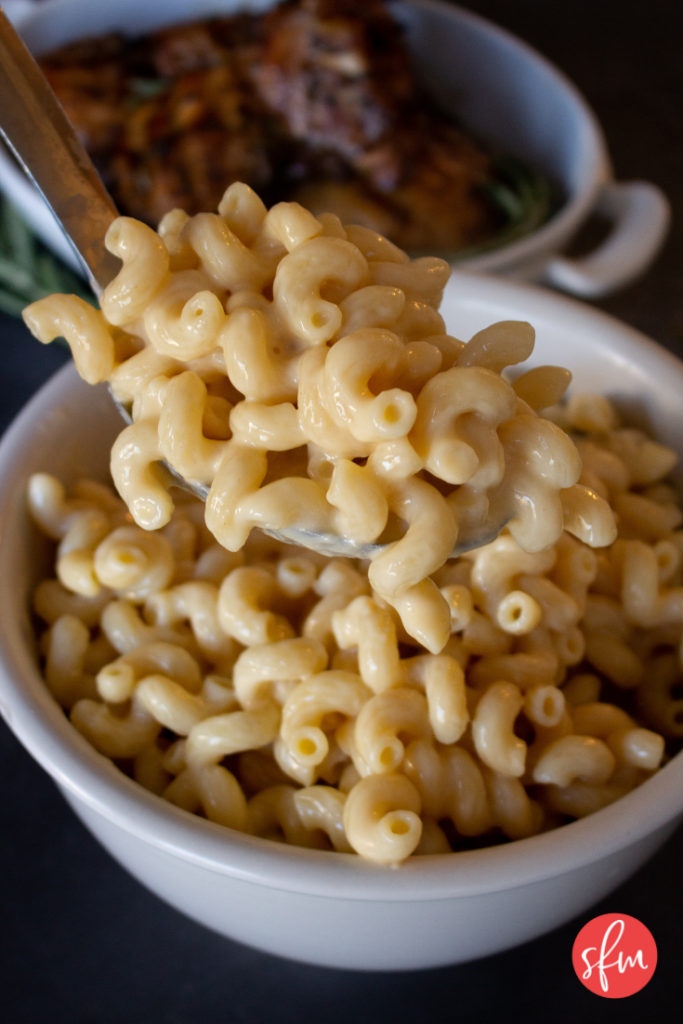 Here's a look at the 5 simple ingredients you need for this one. I decided to swap out the fat free milk pictured here for the Fairlife Fat Free Milk to help boost the protein up some. If you don't track your macro nutrients, or don't have Fairlife at your local grocery store, it's only a difference of 1 gram of protein per serving in this one.
Cavatappi is out favorite pasta noodle in our home. This Private Selection brand is from Albertsons. I've also find it at my local target and in the bins at WINCO. Use whatever pasta you like or have on hand. Same goes for the cheese.
As always, I hope you enjoy this recipe when you make it in your own home. Tag me on Instagram if you're into that! I absolutely love seeing you guys making my recipes and sharing, it means a lot. Thank you! Enjoy this one and have a wonderful Thanksgiving.
Ingredients
16 ounces uncooked pasta of choice
4 tablespoons butter(56g)
1/4 cup flour (30g)
2 cups fat free milk
2 cups (6oz) cheddar cheese (shred from the block)
1 cup (3oz) mozzarella cheese (shred from the block)
salt & pepper
Instructions
Cook pasta according to package directions in salted water. (I always put in about 1 tablespoon of kosher salt when I add the pasta to the boiling water) Strain and set aside.
Shred your cheese from the block for the creamiest mac & cheese. Pre shredded works, just not as well.
Over medium high heat melt your butter. Start whisking in the flour, a little bit at a time. It will get clumpy. Nex start adding in your milk, slowly as your whisk, until all milk has been incorporated. Dump in cheese and mix well.
Add the cooked pasta into the cheese mixture and add a little salt and pepper. Enjoy!
Nutrition Facts
Classic Mac & Cheese
Serves: 9
Amount Per Serving:

200g

Calories

367

% Daily Value*
Total Fat

14.3

21.5%
Saturated Fat
0
Trans Fat
Cholesterol
0
Sodium
0
Total Carbohydrate

42

14%
Dietary Fiber

2

8%
Sugars
Protein

17.5
| | |
| --- | --- |
| Vitamin A | Vitamin C |
| Calcium | Iron |
* Percent Daily Values are based on a 2,000 calorie diet. Your daily values may be higher or lower depending on your calorie needs.
© 2023 Copyright Stay Fit Mom