Jump to recipe
I've been working on this recipe a few weeks and can hardly wait to share it with you all. I have a feeling it's going to be a huge hit! Lot's of protein, veggies, chesse, and flavor! You all know I'm a meal prep kind of gal so anything I can make in one pot is a life saver. No one loves to do ALL the dishes so using just one big pot makes life a little easier.

This post contains affiliate links. If you purchase something from these links, we could earn a small commission. This would be at no additional cost to you.
I always use my 6 quart cast iron pot for this recipe. In fact, I use it for a lot of my one pot meals, including the famous Skinny One Pot Chili Mac & Cheese. I've been dying to order another one because they're so dang cute and practical! I've had my eye on a white one and may have to just take the plunge and order it soon!
This recipe is great reheated the next day, which is always a concern for me. In fact, I feel like the flavors really soak in and it tastes even better reheated. Or maybe I'm just crazy, who knows? Also, don't forget you can find all our most recent recipes in Myfitnesspal by searching Stay Fit Mom, followed by the recipe name. This one is in there and ready for you so get after it! Here's a step by step look at how to make this simple recipe below.
I found these mini penne noodles at Smith's, but any pasta will work. 10 ounces of pasta is 10 ounces of pasta so use what you like! Scroll down for printable recipe! I hope you all love this chicken and broccoli recipe as much as I do!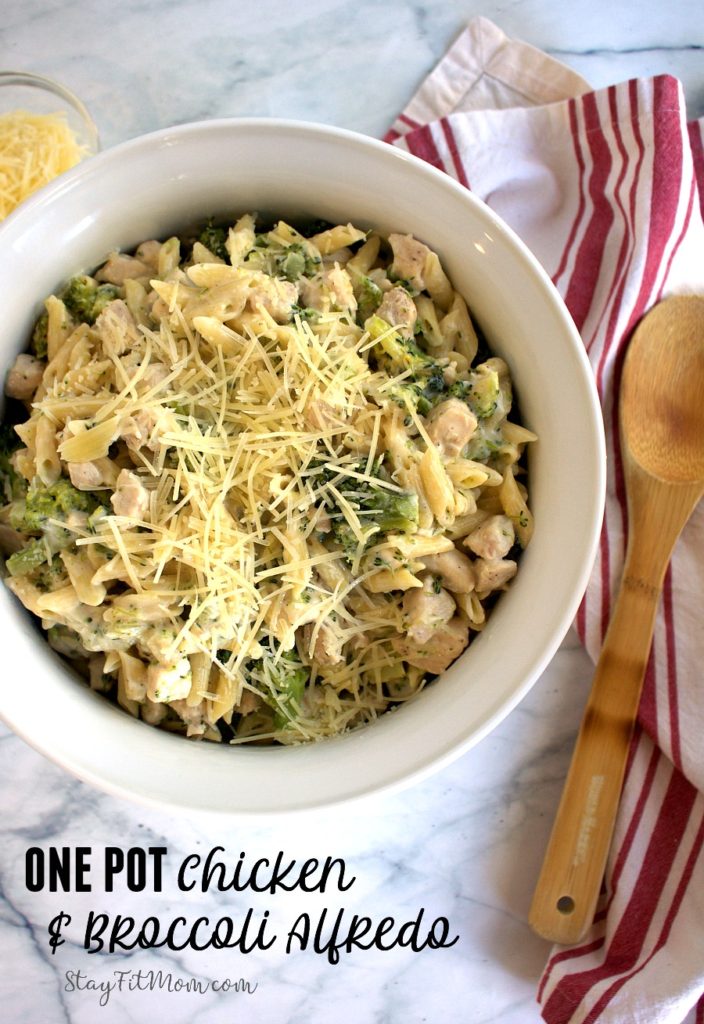 Ingredients
2.5 pounds Boneless, Skinless, Chicken Breast, Cubed
20 Ounces Broccoli Florets, Raw
1 Medium Onion, Chopped (200g)
0.5 Tablespoons Extra Virgin Olive Oil
1 Tablespoon Minced Garlic
10 Ounces Mini Penne
2 Cups Water
1 Chicken Bouillon Cube
4 Tablespoons Butter
1 Cup 2% Milk
6 Original Creamy Swiss Laughing Cow Cheese Wedges
3/4 Cup Shredded Parmesan Cheese (84g)
Pinch of Nutmeg
Salt & Pepper
Instructions
In a large pot over medium heat cook the olive oil, onion, garlic, and cubed chicken.
Once chicken is cooked through and no longer pink in the middle, add the pasta, water, and Buillon cube. Stir well.
Immediately place the broccoli over the top and place your lid on. The broccoli will not be submerged in water. Cook on medium heat, 10-12 minutes or until pasta and broccoli are soft.
Remove from heat and stir in the butter, milk, cheese, a small pinch of nutmeg, and some salt and pepper!
Enjoy!
Nutrition Facts
One Pot Chicken & Broccoli Alfredo
Serves: 8
Amount Per Serving:

350g

Calories

422

% Daily Value*
Total Fat

14.6

21.5%
Saturated Fat
0
Trans Fat
Cholesterol
0
Sodium
0
Total Carbohydrate

37.5

12.3%
Dietary Fiber

3.7

12%
Sugars
Protein

36.2
| | |
| --- | --- |
| Vitamin A | Vitamin C |
| Calcium | Iron |
* Percent Daily Values are based on a 2,000 calorie diet. Your daily values may be higher or lower depending on your calorie needs.
Notes
Easily log this in Myfitnesspal by searching Stay Fit Mom One Pot Chicken & Broccoli Alfredo

© 2023 Copyright Stay Fit Mom
Follow us @stayfitmom_com and @stayfitmomblog on Instagram and on our Facebook page where we love getting personal. You can also subscribe to Stay Fit Mom for healthy recipes, workouts, and most of all inspiration and encouragement! We are on Pinterest and have lots of healthy recipes pinned!