Jump to recipe
If you're looking for something simple to make for friends and family for Christmas this year this is it!! This molasses cookie recipe comes out of one of my grandma's old church ward recipe books. If you know about these recipe books, you KNOW. Some of the best recipes originated from those books.
These are the perfect cookie to dress up for the holidays and give out to friends, neighbors, coworkers, and family. My sisters and I love to hit up Walmart the day after Christmas to stock up on cute holiday tins, bags, tags, and more for 50% off.​​​​​​​ It's become a fun tradition for us and it's always so nice to just pull these out of storage the next holiday season when we need them.
This post contains affiliate links. If you purchase something from these links, we could earn a small commission. This would be at no additional cost to you.​​​​​​​
This is the first time I dipped these in white chocolate. I thought it would be so cute for Christmas. I've seen it done before, and my beloved Suss Cookie Co. sells them this way. As much as I love to bake, I also love to order Suss Cookies and keep them in my freezer. FYI- they ship nation wide!
A few tips if you decide to make these as gifts this year:
Don't skip refrigerating the dough overnight. It really does make a difference.
Use a food scale to weigh out the dough for each cookie. #1. It makes for evenly cooked cookies. #2. It makes it easier to package in your boxes and bags when they're all the same size.
Don't overcook your cookies. Once they start to crackle, take them out of the oven!
Let them cool completely before dipping or drizzling them in the chocolate.
Don't try to use white chocolate chips, it doesn't set right and you'll have a mess. You need to buy candy dipping chocolate. Walmart sells it in the baking isle.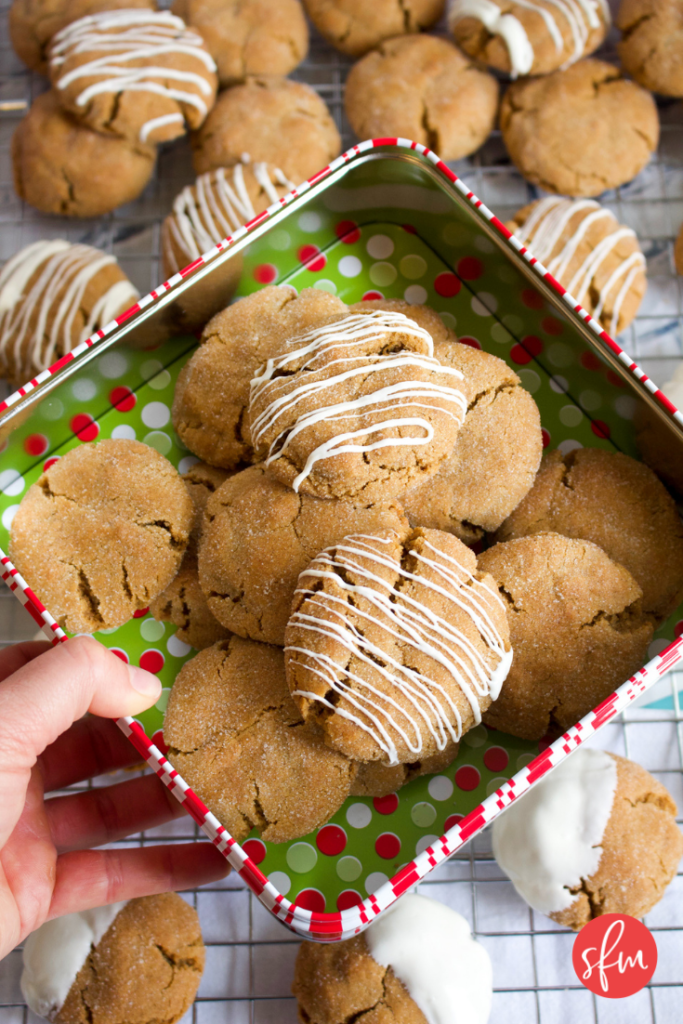 If you give these a try this holiday season tag me on Instagram so I can see! I love seeing you guys make my recipes! Tagging me so I can re share is one of the easy way to show us your support for SFM. Thank you!
Ingredients
2 & 1/4 cups shortening (butter flavor)
3 cups sugar
3/4 cup molasses
3 eggs
6 teaspoons baking soda
6 cups flour
1 & 1/2 teaspoons cloves
1 & 1/2 teaspoons ginger
3 teaspoons cinnamon
1 & 1/2 teaspoons salt
**Optional: white candy dipping chocolate (I used Candiquik from Walmart).
Instructions
In a small saucepan, over low heat, melt your shortening. Once it's melted remove the pan from the burner and set aside to cool for about 30 minutes.
In a mixing bowl or stand mixer add your sugar, molasses, egg and the shortening. Mix well.
In another bowl sift all dry ingredients. Slowly add to the first mixture until well combined.
Cover and chill overnight or at least 8 hours.
Preheat your oven to 375 degrees F.
Form cookie dough into a ball (40g per cookie) and roll into a small bowl of granulated sugar. Place all cookies onto a cookie sheet and bake 8-10 minutes. Remove them when the tops just start to crack.
Let cool and dip or drizzle with white dipping chocolate.
Nutrition Facts
Molasses Cookies
Serves: 60 cookies
Amount Per Serving:

1 cookie (40g)

Calories

155

% Daily Value*
Total Fat

7.4

10.8%
Saturated Fat
0
Trans Fat
Cholesterol
0
Sodium
0
Total Carbohydrate

20.8

6.7%
Dietary Fiber
0
Sugars
Protein

1.4
| | |
| --- | --- |
| Vitamin A | Vitamin C |
| Calcium | Iron |
* Percent Daily Values are based on a 2,000 calorie diet. Your daily values may be higher or lower depending on your calorie needs.
Notes
Search MyFitnessPal for Stay Fit Mom Molasses Cookies to log.

Serving Size
1 cookie (40g)
© 2023 Copyright Stay Fit Mom
Follow us on Pinterest for more great recipe suggestions! We love seeing Stay Fit Mom recipes in your kitchen! Post your meals to Instagram and be sure to tag @stayfitmom_Kristaand @stayfitmom_Tracy!
You might also like to make these Christmas Caramels!