This shop has been compensated by Collective Bias, Inc. and its advertiser. All opinions are mine alone. You must be 21+ years old to try Poise Impressa Bladder Supports. #LifeAfterLeaks #CollectiveBias
Do you pee when you CrossFit or exercise?  If you do, you're not alone.  In fact, just about every time there is jump rope in a workout there's a line for the bathroom.  I've had two kids and they are my greatest blessings, but my body is not exactly what it once was.  I used to feel a little embarrassed and carried some shame about it, but some of my good friends shared their stories with me to make me feel better.  I hope this post makes you realize, we're all on this journey of motherhood together.  Sometimes that means calling your girlfriend to vent about the latest tantrum your toddler pulled, and sometimes it means you make your friend feel better by telling her all the times you've peed your pants.
"I'll never forget the first week I started CrossFit. I peed myself. I was SO embarrassed that I almost didn't want to go back. Until I turned to the mom next to me and realized she had too. We couldn't stop laughing."
"The first workout I did with the air dyne… Let's just say, I felt REAL bad for the person who got on after me."
"Jump rope again…. I'll be right back."
"I took my son to one of those indoor trampoline places a few weeks ago.  He's potty training, so I always carry an extra pair of shorts for him.  I've learned.  Trampoline = mom carries an extra pair of shorts for HERSELF."
"Do you have an extra pair of pants I can borrow?  That one mile run really took it out of me.  Literally.  It took every drop of urine out of me."
You see, this is a common challenge that many of us are dealing with.  Let go of the shame and embarrassment and share your pee stories with your friends (and ME in the comments below)!  You never know whose day you might turn around!
I've got good news for you.  If this week's jump rope workout gives you anxiety, Poise Impressa just might be the product for you!
Poise Impressa looks and functions like a tampon, but instead of absorbing leaks, it's designed to PREVENT them!  Let me tell you a little bit about the sizing kit and what to do if you want to try them for yourself…
Step 1: Start with size 1, insert the Bladder Support just like you would a tampon.
Step 2: The non-absorbent Bladder Support expands to support the urethra once inside.
Step 3: If you still experience leaks, then progress to size 2. Repeat until you've found your perfect internal fit.
Step 4: To remove, pull on the string and dispose of the bladder support in the trash.
Keep in mind, if you try size one and you still experience leaks, move to size two, and then to size three if necessary.  The size isn't about how much you weigh or leak, it's just about the right internal fit for you.
You can purchase Poise Impressa in the feminine hygiene aisle at CVS.  You can use this printable coupon!  But I'll warn you, if you look THIS excited about buying a product that stops bladder leaks, you may get a few bizarre looks.
I love that women are being provided options for staying dry and keeping confident during their workouts! Speaking of workouts, let's get to it!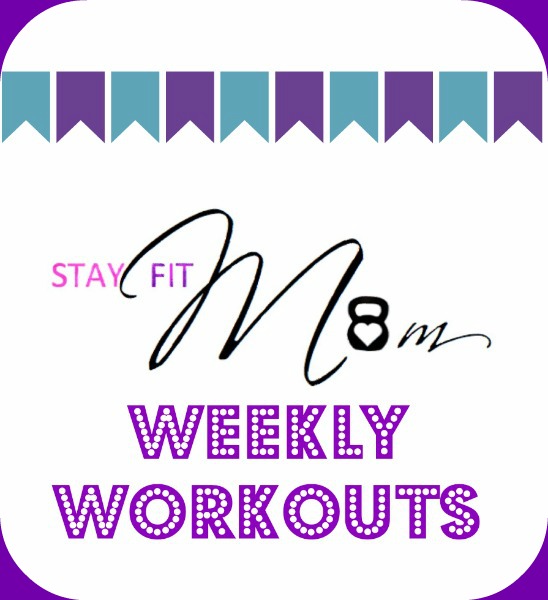 Follow us on Pinterest for great workout suggestions! !  Post your workout to Instagram and be sure to tag @stayfitmom_Krista and @stayfitmom_Tracy!
[Tweet "@StayFitMomBlog posts new workouts every week you can do at home!"]
Weekly Workout:
CrossFit "Annie"
50, 40, 30, 20, 10
Double Unders (or single skips)
Sit-ups
Equipment Needed:
Timer:  We frequently use the MYWOD app and recommend it to our readers.  You can keep track of your workouts, they've got How To videos, and of course the app has great timers.
Jump Rope
Modification Options:
Be sure to modify this at-home workout to your ability level.  If you are learning to do double unders, but the amount of repetitions listed sound unreasonable, cut them in half.  You can always do single skips if double unders are a no-go.
Begin the workout with 50 Double unders (or single skips). Then complete 50 sit-ups.  After the sit-ups, move back to the jump rope for 40 double unders and then 40 sit-ups.  30 double unders, 30 sit-ups, 20 double unders, 20 sit-ups, and then finish the workout with 10 double unders and 10 sit-ups.
Workout demo video:
Good luck and remember to refuel, take a picture, and tag us @StayFitMom_com and @StayFitMomBlog on Instagram and use hashtag #SFMWeeklyWorkout!